WORKING TO RESTORE BEIRUT WITH THE ENERGY THAT DRIVES IT

◇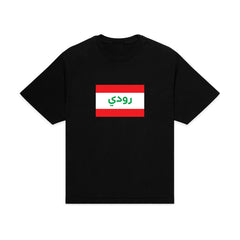 Rudi for Beirut T-Shirt by Rudi Gernreich
About the artwork
"THE YOUNG MAN HAD GROWN TIRED OF BEING TYPED, IDENTIFIED, JUDGED BY HIS APPEARANCE. SUDDENLY HE NO LONGER NEEDED IT. WHAT WAS REALLY IMPORTANT TO HIM WAS HIS MIND. WHEN I MET HIM, HE WAS WEARING AN ANONYMOUS SORT OF UNIFORM OF AN INDEFINITE REVOLUTIONARY CAST. ACTUALLY, HE HAD PASSED FROM PRIVATE ANARCHY TO POLITICAL AWARENESS." RUDI GERNREICH, 1971.

"The only relevant issue now is freedom," was one of Rudi Gernreich's lifelong mantras.

Asked to create a bespoke item inspired by the themes of freedom, liberation and peace, the house of Gernreich's statement of support takes the form of a Unisex t-shirt bearing a stylized Lebanese flag and letters spelling out 'RUDI' in Arabic script.
A short-sleeved style in super-soft black jersey, the effect is simultaneously bold and subtle. Comfortable and relaxed fit. 
Black with Red/White/Green print
100% Cotton
Made in Italy
Unisex sizing, relaxed fit

Sizes: S, M, L, XL

Shipping
Shipments can take up to 6–8 weeks to be processed. International shipments might be subjected to customs taxes.
Please bear in mind that we're a charitable, grassroots initiative; processing and shipping takes longer than it does for commercial online retail. Work is packed and shipped from our contributor's studios, who (like our customers) are based all over the world.
We'll keep you informed via email, please contact us if you have further questions, and we'll get back to you as soon as possible.
Why USD?
Transactions will be in US Dollars, because it's a universally accepted currency in Lebanon and will be counted as 'Fresh Money', i.e. non-Lebanese dollars or "Lollars", which are stuck in the banking system.
[For context: The Lebanese lira had been pegged against the US dollar at a fixed level (1,500 to the dollar) since 1997, the dollar and lira being used interchangeably. Personal savings accounts are kept in US dollars, and large-scale imports of wheat, medicine and fuel, are done in US dollars, too. Now, Lebanon is experiencing a financial crisis of such magnitude that the lira has lost nearly 90% of its value compared to the dollar, and the price of everything has skyrocketed.
Large deposits from wealthy investors in the central bank had been the primary source of dollars, needed to maintain the link to the Lebanese pound. As Lebanon doesn't produce a lot for export, the economy relied on continuing investments, with the central bank offering ever-higher interest rates for large deposits, whose yields could only be covered by newer deposits at even higher rates. This strategy has been likened to a state-sponsored Ponzi scheme, and collapsed once new depositors stopped investing. It didn't take long for the real dollars in the bank to be far short of the theoretical dollars that had been earned in interest on previous deposits.
Earlier this year, banks put strict limits on cash withdrawals for individual account holders, either limiting dollar amounts, or ceasing to hand them out at all. Withdrawals from savings accounts have been strictly limited, and only allowed at the current lira to dollar rate, meaning that peoples savings are basically evaporating.
Now, the dollar bills that belong to individual citizens are being held by the banks, and referred to as "Lollars", or Lebanese Dollars, practically mythical objects.]
Share