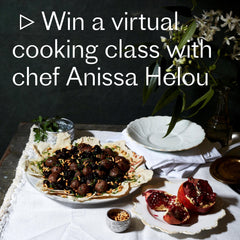 Virtual cooking class with Anissa Helou
Virtual cooking class with Anissa Helou
26/
9/
2023

3
Opening Date: 03/12/2020
Closing Date: 10/12/2020
Ticket Price: $15.00
All funds go to Beirut NGOs
Payment 100% Secure
About the prize
Experience a taste of Beirut with a virtual cooking class taught by Lebanese chef Anissa Helou. Session duration is one hour and the winner will learn to cook one Lebanese main dish and dessert. Anissa will share a list of ingredients for you to purchase ahead of your session.
Dietary requirements may be accommodated. Offer excludes ingredients.
Lucky Dip experiences will take place within 3 months after the draw. 

How does it help Beirut?
Every sale contributes to raising money for Lebanon. Funds will be disbursed with full transparency to well-vetted NGOs according to the most pressing needs through the Beirut Emergency Fund 2020.