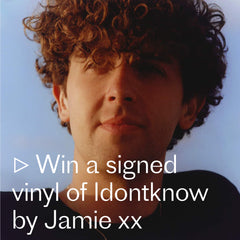 Signed vinyl of Jamie xx's latest release 'Idontknow'
Signed vinyl of Jamie xx's latest release 'Idontknow'
11/
12/
2023

6
Opening Date: 06/12/2020
Closing Date: 13/12/2020
Ticket Price: $15.00
All funds go to Beirut NGOs
Payment 100% Secure
About the prize
Win a signed vinyl of the latest release by Jamie xx titled 'Idontknow'. It marked Jamie's first piece of solo music since his Brit and Grammy-nominated debut album 'In Colour' in 2015. 

Lucky Dip items will be shipped within 3–6 weeks after the draw.
How does it help Beirut?
Every sale contributes to raising money for Lebanon. Funds will be disbursed with full transparency to well-vetted NGOs according to the most pressing needs through the Beirut Emergency Fund 2020.